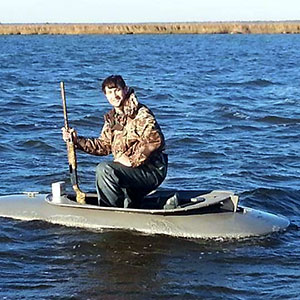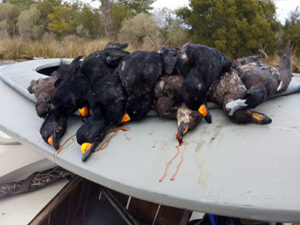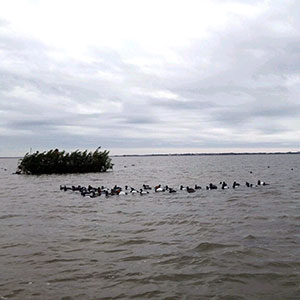 North State Guide utilizes a variety of blind types to ensure a fun and successful hunt. Open water scissor rig hunts are our most requested duck hunting trips. It is a unique experience for the those who enjoy or want to try open water hunting with high volume shooting. A full array of ducks are harvested out of our scissor boats.
Our layout boats also provide a very effective means of getting up close and personal with trophy birds. Good boats and quality decoys make a difference in our high success rate, with many shots taken within 15 yards. Safety is always our primary concern, and our full-time, professional guides are experienced hunters and safety experts.
Our traditional stake blinds are larger and more comfortable, and allow for a large group of hunters. There is more time to socialize in between flights of birds, and sometimes we even serve breakfast in the blind at clients' request. Fresh Pamlico Sound oysters pulled from the water and steamed on shore are a perfect way to end an afternoon of duck hunting!
Duck Hunting Gear
North State Guide recommends that clients bring a 12 gauge shotgun with heavy steel loads, as Seas Ducks are notorious for carrying shot. The preferred shot size is BB or #1 steel. Also, neoprene waders are recommended as well as an "oil skin" jacket for this demanding type of open water gunning. You should also bring sunglasses, sunscreen, water, a camera and your sense of adventure. Your guide will discuss further items to bring depending on weather conditions to ensure your comfort in the boat.
Cost: $250 per person, with a 2 person minimum or $200 per person, with 3 or more people.