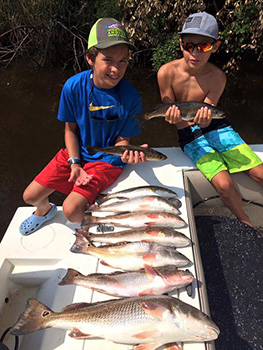 Eastern North Carolina is home to one of the largest watersheds and fisheries in the United States. The Albemarle Sound and Pamlico Sound are fed by several important river systems – Chowan River, Roanoke River, Perquimans River, North River, Alligator River, Bay River, Pungo River, Pamlico River and Neuse River. This enormous fresh water system produces some of the most diversified and abundant fish populations in the country. We are very fortunate to live in North Carolina with its mild winters and ability for fish year round. Sports fisherman come from all across the US for the fishing found in Eastern North Carolina.
Besides all the saltwater fish like Tuna and Marlin found in the Atlantic Ocean off the North Carolina coast, we also have many other prized fish like Old Drum, Striped Bass, Speckled Trout, Flounder and Puppy Drum. Unlike the limited seasons for Old Drum and Striper, we can go fishing for Speckled Trout, Flounder and Puppy Drum year round along the inner banks of the Albemarle Sound and Pamlico Sound, and their rivers and tributaries. The fish may be smaller, but they are still just as much fun to catch.
In shore is great for those times when you want to go fishing but don't have a lot of free time. Since we can launch the boat close to our fishing spot it takes less time to get there and back. Less time traveling means more time fishing. Since in-shore fishing occurs in more shallow waters the fish are easier to find among all the underwater obstacles and grasses. It takes patience, skill and a bit of luck to land that big catch here.
North State Guide is your fishing professional that will assist in catching the best that the rivers have to offer. Captain Jennings Rose has been fishing the back waters of Eastern North Carolina his whole life. He has the local fishing knowledge to make your day on the water a successful adventure. We provide the boat, all rods and equipment, bait, tackle and ice for your trip. All you need to bring is sunscreen, drinks, a camera and a sense of adventure.
Pricing:
Long Half Day: $500
Full Day: $800
Feel free to call Captain Jennings for custom charters and special pricing.