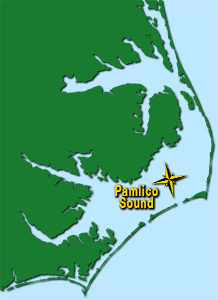 Eastern North Carolina's Pamlico Sound is home to the world's largest "Old Drum" fish. Drum (Red Fish) fishing is one of the most fun experiences for any recreational fisherman from July to September. These massive adult fish can grow to over 40 pounds as they migrate back to coastal rivers to spawn in late summer and early fall. The Old Drum are a highly sought after fish because of the strong fight they provide as you try to reel this giant fish into the boat. If you are lucky enough to catch a 'citation' Old Drum (over 40 inches) be sure to have you camera ready because these are strictly catch-and-release. It is fun and exciting for both beginners and experienced fisherman.
North State Guide is your best choice for finding and catching Old Drum on Pamlico Sound. Captain Jennings Rose has been Drum fishing his entire life and knows the best locations, time and bait to use to land these trophy fish.
Plan your once in a lifetime Old Drum fishing trip with family and friends to share the experience and see who can catch the biggest fish. It is a good time to catch up, and re-tell old stories as you wait for your prize fish to take your bait. Be prepared to land your catch in the early evening and into the night when these fish are most active during the spawing season.
Pricing:
Long Half Day: $600
¾ Day: $700
Full Day: $900
Split Days: $1,000