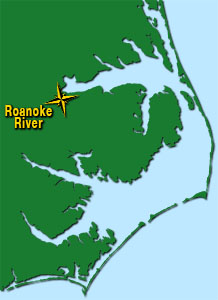 Striper (Striped Bass or Rockfish) fishing season is April and May as the fish return to spawn in the fresh waters of the Roanoke River. The Roanoke has an excellent fish run during this time allowing anglers to catch large Striper up to 2 – 3 feet long and 15 – 20 pounds. The beautiful natural scenery along the Roanoke River basin is filled with great fishing, abundant wildlife and majestic views. It makes for a perfect family fishing trip. With our guide's local knowledge you are sure to find the Striper fishing fun and relaxing.
Striper are highly sought after by sport fisherman around the country. We are very fortunate to have a stable fishery population that produces great catches for our recreational fishermen. Besides being fun and easy to catch, Striped Bass taste good too. They have a large flake white meat with a mild flavor and medium texture. Striper can be fried, grilled, broiled, or pan-seared.
North State Guide provides all bait, tackle and ice for your relaxing day of adventure on the river. If you would like to bring your own fly rod you are more than welcome. Please notify the captain if you plan to bring a small child so that we can ensure to have a proper fitting, comfortable life jacket available. Be sure to bring sunscreen, drinks and don't forget your camera.
Pricing:
Half Day : $600
Full Day: $800
Split Day: $900